2022 SEASON EXHIBITION FEATURES WORKS BY 15 ARTISTS, EXPLORING THEMES OF MIGRATION, LABOR, PROTEST, AND SOCIAL INJUSTICE
JANUARY 25 — JUNE 18 2022
For its 2022 season, the Center for Italian Modern Art (CIMA) will present Staging Injustice. Italian Art, 1880-1917, a group show exploring Italian painting and sculpture in the decades between 1880 and 1917 — the most dramatic year of World War I. In light of widespread social tensions, economic difficulties, and inequalities prevalent in the United States in 2020-21, CIMA looked to explore cultural conversations by making historical connections to a period of similar social upheaval in Italy more than a century ago — one powerfully reflected in the country's fin-de-siècle art.
Staging Injustice is organized around four themes that marked the realities of its artists—migration, labor, protest, and social injustice—topics that resonate to this day in Italy, the United States, and many nations worldwide. Shedding light on a period of Italy's social and artistic history rarely examined abroad, the exhibition underscores how modern artists have eternally been among the strongest voices against oppression. Staging Injustice is on view from January 25 to June 18, 2022.
Featuring around 20 artworks from Italian museums and first-rate private collections, and together with a selection of photographs and images from press at the time, Staging Injustice is curated by Giovanna Ginex, an independent art curator and historian based in Milan. Ginex specializes in different aspects of 19th and 20th century art across painting, sculpture, photography, and design, and is a frequent collaborator with institutions in Italy and abroad.
Artworks by the fifteen artists of Staging Injustice including Giacomo Balla, Antonio Mancini, Angelo Morbelli, Giuseppe Pellizza and Medardo Rosso, offer a cross-section of the most advanced Italian artistic production of the time. The exhibition includes heterogenous perspectives, styles, and formal languages, which reflect the artists' diverse backgrounds in terms of location, training, and their varied alignment with the tastes of the era. The exhibition will also become a dialogue between artists who came from different areas of the country and were educated in different academic contexts. Most of the artists' work have never been exhibited in the United States including Ambrogio Alciati, Adriana Bisi Fabbri, Antonio Carminati, Achille D'Orsi, Raffaello Gambogi, Giuseppe Mentessi, Luigi Nono.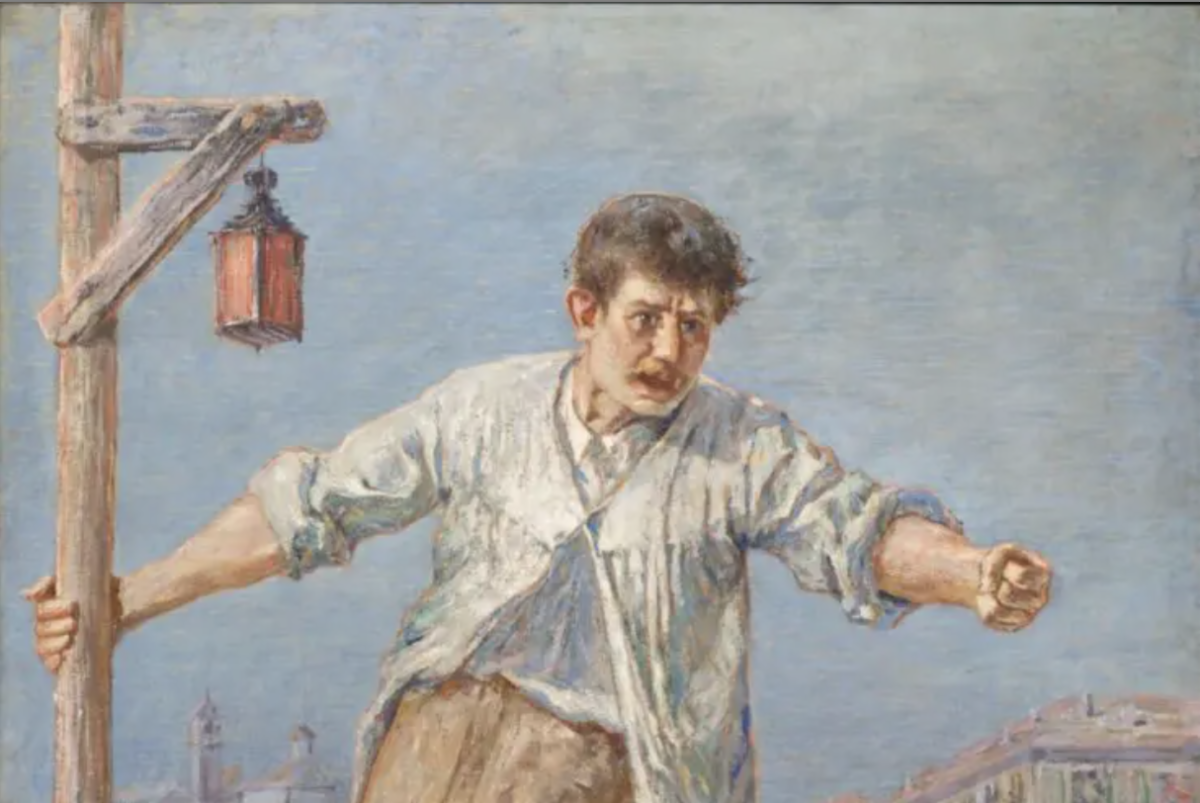 Emilio Longoni L'oratore dello sciopero 1890-1891
This thought-provoking and timely exhibition will be held at CIMA (421 Broome Street, 4th floor, New York, New York, 10013) and is open to the public on Fridays and Saturdays by appointment.
The themes of the exhibition will extend both to its robust slate of public programs and events, including lectures, concerts, film screenings, and activities for students. Details of public programs will be announced in the coming weeks.
As always, CIMA's exhibitions result from the curator's deep knowledge of the selected topic, but also function as a catalyst for new research by CIMA's international fellows who gain and share new insights on the show's themes with the public. The fellows' studies will be included in CIMA's accredited academic online journal, Italian Modern Art following the exhibition's run (www.italianmodernart.org/journal)
CIMA's international fellows for Staging Injustice include Giorgio Motisi, PhD candidate in Art History at the Scuola Normale Superiore (Pisa), Camilla Froio, PhD in Art Criticism and Theory at the University of Florence, Italy, and Eduardo De Maio, a final year PhD candidate in History of Art at the University of York, United Kingdom
About CIMA
Founded in 2013, CIMA is a public non-profit dedicated to presenting modern and contemporary Italian art to international audiences. Through critically acclaimed exhibitions—many of them bringing work to U.S. audiences for the first time—along with a wide variety of public programs and substantial support for new scholarship awarded through its international fellowship program, CIMA situates Italian modern art in an expansive historic and cultural context, illuminating its continuing relevance to contemporary culture and serving as an incubator of curatorial ideas for larger cultural institutions. CIMA works to add new voices to scholarship on modern Italian art with annual fellowships that open fresh perspectives and new avenues of research. A visit begins with a complimentary espresso, followed by an informal exhibition tour with one of the resident fellows. Visitors are welcome to linger for additional viewing and conversation.